Gold Lace Crown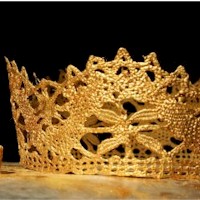 Whether you are dressing up for Purim, Halloween or just everyday playtime use lace and a touch of gold paint to create a regal "gilded" crown
Supplies
Lace
Gold acrylic paint
Gold leafing powder
Modpodge
Scissors
Paintbrushes
Wax paper
(optional) Hair dryer
Instructions
Take your lace and make a crown shape. The laces I used have one flat side. That really helps the structure. The width of the lace and the pattern will help you determine the size of your crown.
Trim lace to size with a 1/2 inch or more overlap, matching pattern.
Paint with gold acrylic paint. Be sure to cover all surfaces. Paint both sides of the lace.Let dry. You may want to do more coats of gold paint. I mixed an iridescent gold and a flakier gold for a deeper look.
Place on wax paper.
Coat with ModPodge until well saturated. I recommend you seal with, at least, 3 more coats of Modpodge. Move it around while its really wet, to keep the holes in the lace from becoming windows.
Enhance the color with gold leafing powder dabbed onto wet Modpodge with dry brush. You can skip this step, but I really think it makes all the difference.
Dry completely flat. A hair dryer can speed the process. Brush dry crown with a dry brush to remove excess leafing powder. Peel off of the wax paper.
After all of ModPodge dries, use craft glue to attach the ends of the lace together to form the crown. Pinch ends with fingers until set, wait overnight, until dry. You could also  stitch on a sewing machine.
Place crown on head and have fun storming the castle.
Other Images
Click on an image to open it in a new window
Contributor
FaveCrafts.com
FaveCrafts is owned by Prime Publishing LLC, an Internet Media Company that operates web site communities, e-mail newsletters and e-commerce stores in niche areas such as crafting, home décor, wellness, and cooking. See their craft projects at https://www.favecrafts.com/