Furry Green Cyclops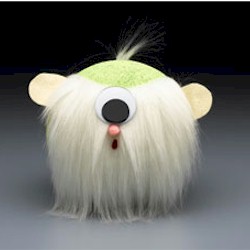 Make a monster that's fun, not frightening. Encourage kids to use their favorite colors and embellishments, and suggest they repurpose fabric scraps, buttons, beads, and other found materials
Supplies
5" styrofoam ball
Craft fur
Wiggle eye, 1-1/2"
Acrylic paint: Green
Pompom, 3/8"
Felt scraps
Craft pins, optional
Stiff paintbrush
Butter knife
Bar soap or old candle
Thick, white craft glue
Instructions
1.Wax knife blade with old candle or bar of soap. Cut small slice from 5" foam ball so that ball will sit flat.

2.Paint ball; let dry.

3.Cut 6" x 5" piece of craft fur. Remove loose fur.

4.In the center of one 6" edge, cut a V-shape 1" long and ½" wide at the top.

5.Glue the 6" side to the front of the ball, closing up the V so that the fur fits snuggly around the curved surface. Use craft pins to help hold fur in place till glue dries. Leave bottom edge loose so fur spreads out.

6.Glue wiggle eye to center front, covering the V cut at top edge of fur.

7.Separate the fur under the wiggle eye and glue on a small pompom nose.

8.Cut out a small, round felt mouth and glue under nose.

9.Cut out felt ears and glue along the edge of the fur.

10.Glue a tiny tuft of fur at the top of the bald head, if desired.
Contributor

Sudbudz
Want to have some creative family time? Print out our SudBudz® Masks and get crafty with the kiddos! More than just a typical Fizzy Bath Ball, SudPrize® is a first ever line of skin-loving and natural bath products that make bath time Fun for Kids and Easy for Moms. A Free companion App, SudBudz® engages your children into an immersive world of special and unique characters called SudBudz®.