Funny Face Cheese Crackers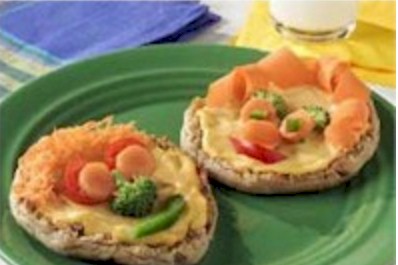 Kids will enjoy eating these delectable Funny Face Cheese Crackers as much as they enjoy making them! Here's an opportunity to add healthy foods to snack time and have the kids look forward to it.
Supplies
1 whole grain English muffin, split, toasted
2 Tbsp. CHEEZ WHIZ Cheese Dip
1/2 cup cut-up assorted fresh vegetables (broccoli, carrots, bell peppers and cherry tomatoes)
Instructions
SPREAD muffin halves evenly with CHEEZ WHIZ.
DECORATE each half with vegetables to resemble funny face.
Contributor

Kraft Foods
For over two hundred years, many companies have united to make Kraft Foods what it is today. Check out their heritage page and learn the many companies that comprise the Kraft family of foods.