Fruit Lace Ups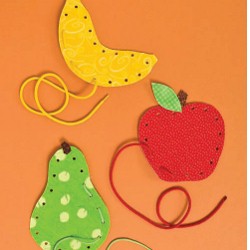 Children will learn fine motor skills as they weave the lace through the holes. This is a great back to school craft that can be made in five easy steps.
Supplies
Fabric scraps for leaves and stems
Yard heavyweight fast2fuse
Colorful cording or shoelace, 1/8" to 1/4" diameter—approximately 1 yard per fruit
Three fat quarters for apple, banana and pear
Fabric glue
Paper punch
Instructions
Fuse fabric to fusing material as indicated on the instructions.
Create simple fruit patterns and trace them onto the fused fabric and cut them out.
 
Fuse and glue the stems and a leaf to the fruit.
 
Punch holes for lacing. This is a great skill-building toy. The colorful pieces of fruit are very appealing to preschoolers, and little fingers will gain fine motor skills by lacing the string through the holes.
 
Knot one end of shoelace or colored cording and lace it through the first hole. Wrap any fraying ends with tape to make a firm, pointed end.
This craft is reprinted courtesy of FaveCrafts.com.
Contributor
FaveCrafts.com
FaveCrafts is owned by Prime Publishing LLC, an Internet Media Company that operates web site communities, e-mail newsletters and e-commerce stores in niche areas such as crafting, home décor, wellness, and cooking. See their craft projects at https://www.favecrafts.com/