Frozen Sunburst Jell-O Pudding Push Ups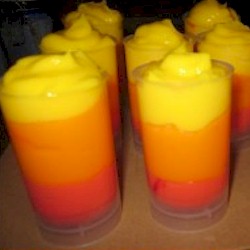 Looking for a fun Summer Treat for the kids? If so I have one for you – You can make some Sunburst Frozen Jell-O Pudding Push Ups. They look great, taste Yummy and they are so EASY to make.
Supplies
1 Box (3.4 ounce) of Vanilla Jell-O Instant Pudding
Wilton's Red, Orange & Yellow Gel Icing Coloring
12 Clear Push Up Containers
Instructions
First I made the Pudding as directed, then split it up into three bowls. Then I colored one Red, Orange and Yellow. Now even though the Pudding is kinda Yellow the coloring makes it brighter.
Next I lined up all my Push Up Containers on my make shift Shoe Box holder. Then I started by adding a tablespoon or so of the Red Pudding, then Orange Pudding and finished with the Yellow Pudding. Is that Easy or what? Then I placed on the covers and stuck them in the Freezer for a cool treat that was enjoyed by all the kids on a Hot Day !! This mom scored some more points with the kids yet again !!
This craft is reprinted courtesy of The Party Animal.
Contributor

ThePartyAnimal.org
If you are looking to have a party to remember then thepartyanimal.org is the right place to come.