Froggie Baseball Hat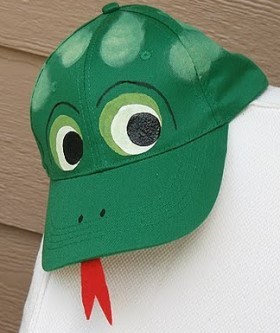 This cute Froggie Baseball Hat will become a style setter for the pee wee crowd. It's a fun project that can be worn with pride by it's creator when all the work is done.
Trivia: A frog  completely sheds its skin about once a week. After it pulls off the old, dead skin, the frog usually eats it.
Supplies
green baseball hat
acrylic paint: black, white, spring green, foliage green
textile medium
round stencil sponges
black Sharpie marker
toothpick
3"x1" piece of red felt
instant grab glue
Instructions
To mix paint for use on the hat, use one part textile medium and 2 parts paint.
Dip large round applicator in foliage green paint and gently scrape off excess. Press applicator onto hat above the bill, gently turn the applicator in a circular motion to make the circle larger. Do this on both sides for the eyes. Let dry.
While the green eyes are drying, dip large round applicator into spring green paint. Leave some excess paint on this time, then turn and drag the applicator across the hat in random places.
Use large round applicator dipped in white paint and dot two eyes onto the foliage green circles. When the white is dry, use a smaller round applicator dipped in black paint to dot on two pupils.
Use a black Sharpie marker to draw exaggerated eyebrows to look like a frog's bulging eyes.
Dip toothpick in black paint and add the nostrils to the bill.
Cut a forked tongue from red felt and glue to the underside of the bill. If you plan on washing your hat, make extra tongues because they won't survive the laundry.
Contributor

CraftBits
Our website was created by a mother and daughter team, adding a unique combination of crafting qualities and expertise of creativity. We started our website after numerous years in the area of craft, teaching, retail craft and owning a gift store. We decided to launch it to provide resources for teachers, therapists, and craft enthusiasts in the year 1999. Since then, the website has grown tremendously in terms of content and resource information.