Frankie Lantern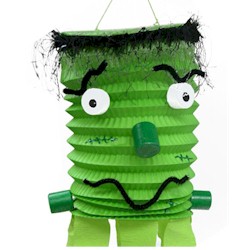 Turn a paper lantern into a goofy, yet ghoulish, Frankenstein this Halloween with Foam Paint.
Supplies
Foam Paint
 Green
 Black
4 foam marshmallows, Darice Foamies
1/4" flat brush
Black chenille stem
Craft knife
Foam plate
2/3 yard black eyelash fringe trim
Scissors
Lo-temp glue gun
Lime green crepe paper streamers
Instructions
Assemble lantern. Hang lantern in place to work on it easily.
Use craft knife to cut one marshmallow in half. Paint sides and one end of remaining three marshmallows with Green Foam Paint and allow to dry. For eyes, use Black Foam Paint to paint circles on flat end of each marshmallow half. Allow to dry.
Referring to photo for placement, glue Green marshmallow pieces to lantern:
glue one each at bottom sides for neck screws and one in middle of lantern for nose. Glue White marshmallow halves above either side of nose for eyes. (It may be necessary to hold these in place between grooves of lantern until glue is set.)
Use Green Foam Paint to paint scars on face.
Cut chenille stem in half. Use half to shape mouth; glue to lantern. Cut remaining piece in half and shape each piece for eyebrows; glue in place.
Glue fringe trim around lantern's top edge for hair.
Cut various lengths of crepe paper streamers and glue one end of each to bottom of lantern.
Contributor

DecoArt
DecoArt® has one of the widest selection of paints and finishes for arts, crafts, and home decorating. All DecoArt products are non-toxic and user- and enviromently-friendly. Visit the DecoArt web site for free projects, how-to idea videos, tips and product info, and for the DecoArt on-line store.