Forget Me Not Cones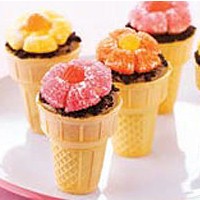 Summer is often the time that families move and kids have a hard time. These Forget Me Not Cones are a cute idea for a going away party that will bring back happy memories year after year.
Trivia: An estimated  13 million children up to age 19 move each year. The number of students enrolled in elementary and high school matches the record set in 1979 when "baby boom" children were attending school. (U.S. Census Bureau)
Supplies
1 cup cold milk 1 pkg. (4-serving size) JELL-O Chocolate Flavor Instant Pudding & Pie Filling
2 cups thawed COOL WHIP Whipped Topping
10 OREO Chocolate Sandwich Cookies, crushed, divided 1 pkg. (1-3/4 oz.)
COMET Cups (12 cups)
12 Marshmallow Flowers (see Tip)
Instructions
Prep Time: 15 min
Total Time: 15 min Makes:12 servings, one cone each
POUR milk into large bowl. Add dry pudding mix. Beat with wire whisk 2 min. or until well blended. Let stand 5 min. Add whipped topping and 3/4 cup of the crushed cookies; stir gently until well blended. Cover and refrigerate until ready to use.
SPOON about 1/3 cup of the pudding mixture into each ice cream cup just before serving. Sprinkle evenly with remaining crushed cookies to resemble dirt in flower pots. Flatten tops slightly with back of spoon.
TOP each with a Marshmallow Flower.
Kraft Kitchens Tips: How to Make Marshmallow FlowersFlatten 12 large JET-PUFFED Marshmallows, then press both sides of each marshmallow into colored sugar. Use clean kitchen scissors to cut five (1/2-inch-deep) slits in each marshmallow to resemble the petals of a flower.
Cut 6 small gumdrops in half; place 1 gumdrop half, cut-side down, in center of each marshmallow flower.
Make it easy instead of spooning the pudding mixture into the ice cream cones, spoon into resealable plastic bag instead. Seal the bag, then diagonally snip off one corner from bottom of bag. Squeeze the pudding mixture from bag into the ice cream cones. Then, decorate as directed.
Contributor

Kraft Foods
For over two hundred years, many companies have united to make Kraft Foods what it is today. Check out their heritage page and learn the many companies that comprise the Kraft family of foods.