Footprint Potato Heads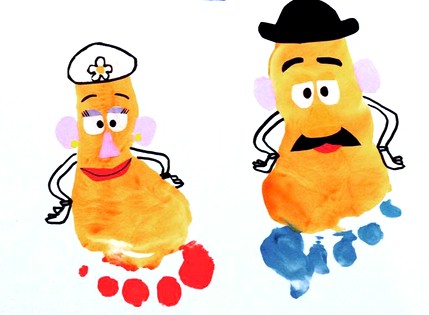 Footprint Potato Heads can turn into Mom and Dad, Aunts and Uncles, cousins and just about anyone you can think of, even teachers….shh don't tell them.
Supplies
Paint
Paintbrushes
Newspaper
Fine point markers
Paper
Instructions
Put down newspaper to protect your craft surface.
Paint the feet of your child in skin tone.
Paint the toes in a contrasting color.
Press firmly on paper.
After paint has dried firmly add details with markers.
The finished projects can be given as gifts or used as cards, package decorations or invitations.
Kids love messy projects but be sure to clean them up before they get loose or you will have a whole house decorated with footprints.
Contributor

SassyDealz.com
"Michelle has a teaching degree and for the love of art she started sharing kids crafts on her blog to inspire teachers, parents, and the little ones! SassyDealz.com is not only a craft website, but also a place where you can find online bargains and freebies!"