Football Name Placques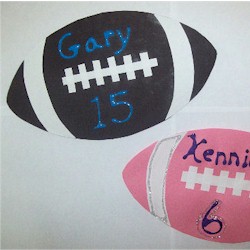 Football and Fall go hand in hand and both boys and girls will enjoy making these Football Name Placques. This craft will help them get into the action for the football season. It can be used to decorate their room or be used on a school bulletin board with the school colors.
Supplies
Glue stick or white glue
Glitter glue
Brown paint
Paint stick (squeezable paint)
Paint brush
Football Template
Construction paper or thin cardboard in the colors you choose
Instructions
Note: When making these, I found I did not have brown construction paper. When paper is painted it tends to warp so I cut apart an empty cereal box and used the cardboard for the football.
Print out the Football Template. Cut out the football shape.
For the pink football, trace the football shape onto the pink construction paper. Cut out. Next cut the "white" strips out of the football. Trace them onto white construction paper. Cut out and glue to the football.
Make laces by cutting strips of white paper about 1/4" wide. Glue a long strip to the center of the ball (see pic above). Cut shorter pieces for the vertical laces and lay out like a railroad track.
Using the paint stick (squeezable paint), write the name on the top and then number on the bottom. The name/number can be the child's name and age or those of their favorite player. Decorate with glitter glue if you like.
For the brown football, cut open a large cereal box or other thin cardboard box.
Trace the football onto plain side of the cardboard. Cut out the ball. Paint the ball with brown paint. Let dry.
Continue as for the pink football above, adding the white stripes and laces. Add name and number.
Patterns, Templates and Printables
Click on a pattern to open it in a new window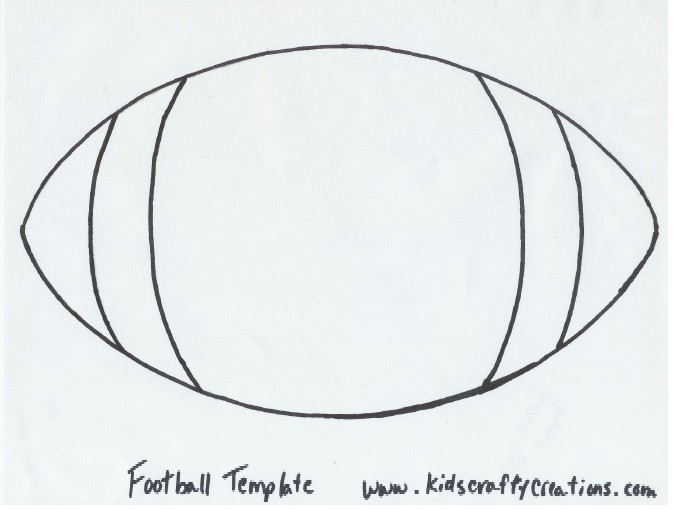 Contributor

Kids Crafty Creations
Kids Crafty Creations is a collaboration between Carol M. Edwards and her daughter, Kennice, as an expression of their love of crafting. In addition to easy and inexpensive crafts, activities and games, you will find articles on the importance of arts and crafts and play to child development.