Bead and Hemp Bracelet of Faith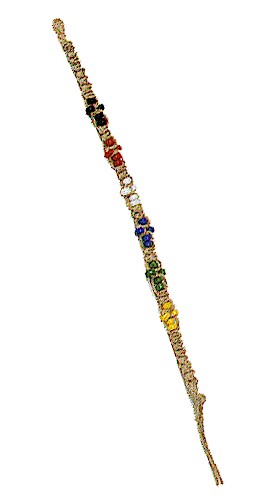 Young people will be proud to wear this Bead and Hemp Faith Bracelet as a reminder of their faith as they face daily challenges. Thanks to Kim Thomas who allowed a reprint from her book Bible Crafts 'N More.
Supplies
Opaque E Beads (5 of each)
Black-- Our Sins
Red-- The blood he shed for us
White-- Purity
Blue-- Baptismal water
Green-- Spiritual growth
Yellow-- The heavens shine upon us
2 yards #20 Hemp Cord
Instructions
Cut 12" off hemp for center cord. Fold remaining hemp cord in half. Lay the center cord between fold. Holding all 3 cords together, tie an overhand knot by making a circle and pulling all the cords through it  (See diagrams below) Pull knot so you end up with a 3/8" loop at the top.
Make a square knot by bringing left cord in front of center cord. Now bring the right cord over the left cord, around the back of the center cord and through the loop. Pull tight.
Now reverse it. Bring the right cord in front over the center cord, the left cord over, around the back and through the loop. Keep knots tight.
Tie five more knots.
Make the first cross by tying the first half of the square knot, then thread one black "E" bead on center cord and tie second half of square knot. Then thread one black "E" bead on each outside cord and tie first half of square knot. Next thread two black "E beads onto center cord and tie second half of square knot.
Repeat for each color cross, then tie five more square knots. Tie all three strands in an overhand knot. This will slip through loop on other end to secure bracelet around wrist. Trim to desired length, leaving them 1" or longer.
Contributor

The FreeKidsCrafts Team
These projects are created by Terri, Betty, Jamie or one of the talented staff members at MakingFriends.com. They have been created exclusively for publication on FreeKidsCrafts.com with supplies you'll be able to find around your house.