Football Favor Holders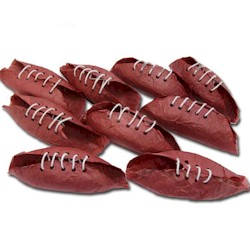 Get ready for a great football themed party with these paper mache Football Favor holders.
Supplies
Coloured tissue paper cut into 15-20cm squares
Paper mache glue
Glue brush
Kitchen cling wrap
Disposable paper/plastic bowls
Hole punch
Wool
Treats to fill
Instructions
1. Paint a coat of glue over the base of the bowl.

2. Cover with cling wrap.

3. Paint over another coat of glue.

4. Lay a square of tissue over the bowl and brush it down with glue.

5. Layer another piece of tissue over and brush down.

6. Repeat for about 4 sheets of tissue and leave to dry overnight

7. This project uses disposable bowls so that many can be made at one time. However, normal crockery bowls will work also.

8. When dry, lift the tissue bowl away from the cling wrap. Punch 5 holes down each side of the football.

9. For laces, thread the wool as pictured.
This craft is reprinted courtesy of Jellyfish Jelly.
Contributor

Jellyfish Jelly – Creative Kids
Jellyfishjelly is the work of Miya Maeda."My work is intended to be a simple guide for non-crafty, "creatively-challenged" parents.  The concept behind this site arose from what I perceived to be the near universal need for parents of small children to find novel and challenging activities to occupy what can sometimes seem like a very long day."