Foot and Fingerprint Giraffe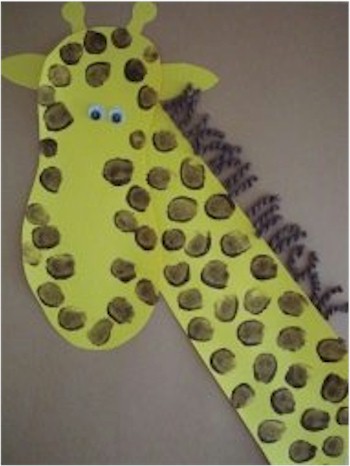 If the kids have been to the zoo they are enthralled with all of the exotic animals, especially the giraffes. They will love making this Foot and Fingerprint Giraffe. Moms will smile at the memory too.
Supplies
Yellow and brown construction paper
Brown paint
Paper plate or shallow dish
Brown yarn (or small strips of brown paper)
Pencil
Scissors
Glue
Google eyes or black marker
Instructions
1. Trace and cut out a yellow foot print (a foot with a shoe on makes a better shape for the head). Cut out 2 ears, 2 horns and a neck.
2. Glue all your Giraffe parts onto the brown paper.
3. The Giraffe's neck will probably hang over the edge, so trim it even with a pair of scissors.
4. Pour a small amount of brown paint into a paper plate or shallow dish. Put spots all over your Giraffe by dipping a finger(s) into the brown paint and pressing it onto your Giraffe. Then glue on your google eyes, or draw them on with a black marker.
5. Cut small pieces of brown yarn and glue them along the Giraffes neck (if you don't have brown yarn you could cut out small strips of brown paper).
Images
Contributor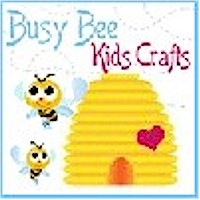 BusyBeeKidsCrafts.com
"busybeekidscrafts.com is the place to find unique, easy and fun kids crafts for toddlers, preschoolers and school-aged children. The best part is all of our kids crafts are made with simple, easy to find materials that don't cost a bundle!"
Supplies
Instructions
Contributor

Sudbudz
Want to have some creative family time? Print out our SudBudz® Masks and get crafty with the kiddos! More than just a typical Fizzy Bath Ball, SudPrize® is a first ever line of skin-loving and natural bath products that make bath time Fun for Kids and Easy for Moms. A Free companion App, SudBudz® engages your children into an immersive world of special and unique characters called SudBudz®.