Foam Turkey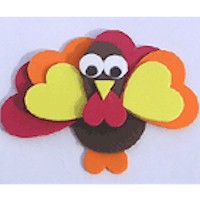 This cute little turkey is a craft fun project for kids to keep them busy while you are preparing for your holiday guests. As guests arrive, your little one can show off his/her creation.
Other easy Turkey crafts:
Supplies
Foam shapes:
  1 small (2 cm) orange heart (feet)
  1 medium (3.5 cm) brown circle (body)
  2 large (4 cm) red hearts (wings)
  2 large (4 cm) orange hearts (wings)
  2 medium (3 cm) yellow hearts (wings)
  1 medium (2x4 cm) brown oval (head)
  1 small (1 cm) yellow triangle (beak)
  1 small (2 cm) red heart (gobbler)
  2 small (1 cm) white circles (eyes)
Black Sharpie marker
Glue stick
Cardboard, posterboard or paper (5x7 or larger)
Instructions
Glue the orange heart upside down onto the posterboard for the feet. Next glue the brown circle above the feet, overlapping the point of the upside down heart.
Next, glue the wings in place using the large orange and red hearts, overlapping each one as you go. Then glue the head in place using the brown oval as pictured.
Glue the medium yellow hearts off to the side of the head shape. Glue the small red heart upside down, overlapping the bottom of the brown oval (chin area). Glue the small yellow triangle just over the tip of the upside down red heart (gobbler).
Lastly, glue the white circles in place for the eyes, then draw black circles on with marker.
Kids can write a special message above their turkey or leave it blank. Let it dry completely and reglue any pieces that may not have adhered well.
This craft is reprinted courtesy of Amanda Formaro of CraftsbyAmanda.com.
Contributor

Crafts By Amanda
Amanda Formaro is the crafty, entrepreneurial mother of four children. She loves to bake, cook and make crafts. She is the craft expert for FamilyCorner.com and Kaboose.com. You can see her crafty creations on http://craftsbyamanda.com" Amanda's Crafts by Amanda and her delicious recipes on http://www.amandascookin.com/ Amanda's Cookin'.