Flamin Hot Apron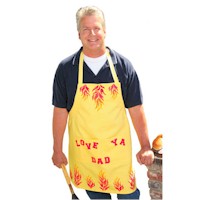 Let Dad know that you think he is the BBQ Chef Supreme with this special Flamin Hot BBQ Apron. It's a gift he'll really love.
Supplies
Tulip® Multi-Surface Stencils™ Block Alphabet 
Tulip® Sticky Fabric Stencils™
 23264 Edgy 
 23269 Edgy 
Tulip® Soft Fabric Paint™
 BI15786 Sunshine Yellow 
 BI15790 Crimson Red 
 Retro 
Apron, men's size
Cosmetic sponges
Foil
Scissors
Plastic tablecloth
Low tack masking tape
Instructions
Before painting, prewash apron to remove sizing. Do not use fabric softener. Shake bottles of paint well. Cover work surface with plastic tablecloth.

Cut desired letters from Multi-Surface Stencil to create sentiment. Press stencil onto front of apron, running fingernail around edges to ensure a tight seal.

Apply masking tape around edges and between letters as needed to create a protective border around stencil.

Squeeze a puddle of Matte Crimson Red onto foil. Tap flat edge of sponge into paint. Tap onto a clean area of foil to remove excess. Tap into opening of stencil. Reload sponge as necessary. Remove stencil. Let dry.

Apply Sticky Fabric Stencils along upper and lower edges of apron, alternating sizes and spacing evenly.

Squeeze a separate puddle of Crimson Red, Coral and Sunshine Yellow Paint onto foil. Apply Matte Crimson Red at lower edge of flame, using sponge. Apply Coral to center of flame, using a clean sponge and slightly over lapping Matte Crimson Red. Repeat procedure to apply Matte Sunshine Yellow at upper edge, using a clean sponge and overlapping Coral. While paint is still wet, use a clean sponge to blend edges of colors. Remove stencil before paint dries.

Reposition stencils. Repeat procedure to paint remaining flames. Let dry.
8.Wait 72 hours to wash. Machine wash warm on gentle cycle. Do not use harsh detergents or bleach. Remove promptly and line dry. To iron, be careful not to touch design with iron. Do not dry clean.
This project is reprinted courtesy of ILoveToCreate.com.
Contributor

ILoveToCreate.com
Where you can explore and share, crafters can play and artists can grow!