Felt Tissue Holder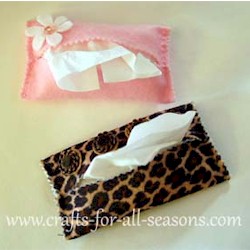 This Felt Tissue Holder is a pretty gift to make for a community project for a nursing home that is useful and a great project to teach simple sewing procedures. The end result will put a smile on the face of the crafter and the recipient.
Supplies
A piece of felt
Embroidery floss and needle
Scrap pieces of felt and buttons for embellishments (optional)
Pinking shears
Instructions
1. Begin by cutting out a rectangle of felt to fit your travel size tissues, using pinking shears. A 6 X 7 inch rectangle works for the most common size of tissues, and is what I used for this project.
2. Fold each long edge of the felt over the tissue pack, as if you are wrapping a present. Make sure the felt fits and overlaps only slightly. If it overlaps too much, do some trimming. Then remove the tissues, and get ready to sew. Divide the embroidery floss to two or three threads in thickness, then begin to sew the short edges together. Be sure to hide the knot in the inside of the holder.
3. Sew a simple basting stitch, trying your best to keep all the stitches even. Sew along each short edge. There is no need to sew across the middle where the edges meet, because you need some room to put the tissues in.
4. Next you can add on any felt embellishments you choose. Here I cut a flower shape out of a contrasting color of felt, added a button, and sewed it to the tissue holder. You may want to try embroidering a name on the felt.
Contributor

Crafts For All Seasons
The Crafts For All Seasons website has many craft projects for every season of the year! There are easy step by step instructions, with many photos to help along the way. Please stop by and browse over 100 craft tutorials!