Faux Floating Balloons with Musical Notes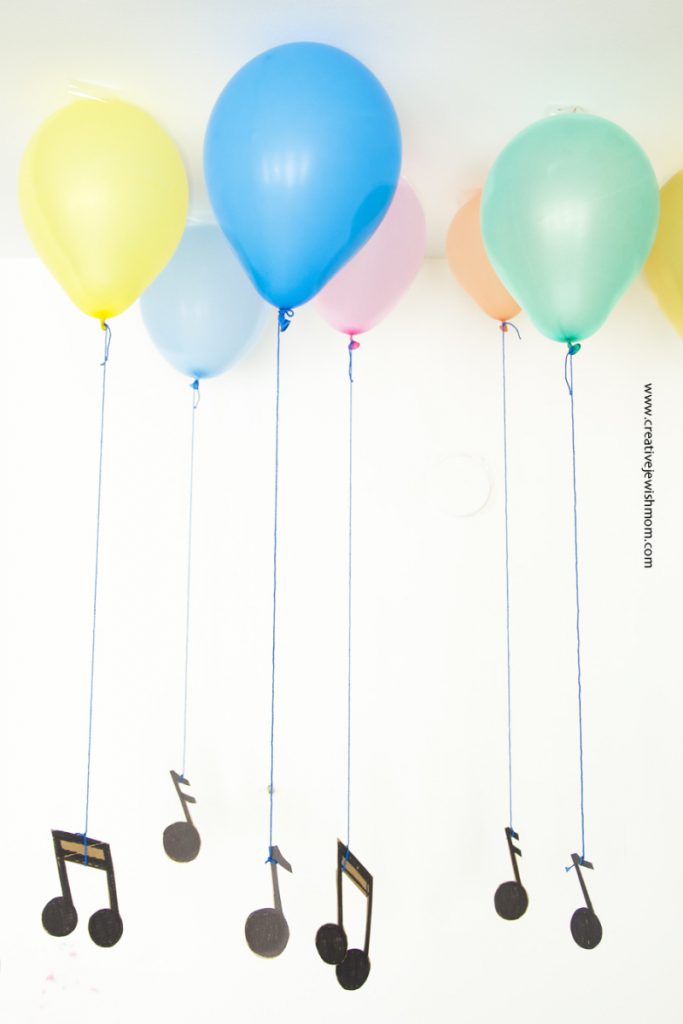 Looks like these balloons are floating doesn't it? Well it's an illusion and an easy one. These Faux Floating Balloons with Musical Notes are great for a music themed party or to create a music event in the classroom.
Supplies
Balloons
String, mine is light weight cotton yarn
Clear tape, I used wide packing tape
Cardboard
Black permanent marker
Scissors
Instructions
Draw notes on cardboard and color with black marker. Cut out notes.
Blow up balloons and tie strings to ends.
Make a loop of tape and affix to top of balloon. Stand on a chair and stick balloon to ceiling. Disclaimer: Tape can damage painted surfaces, so be careful. My ceiling was fine though.
Cut string to desired length and tie note onto end of string.
Repeat steps over and over as the more balloons the more dramatic the effect.
Contributor

CreativeJewishMom.com
Visit me at CreativeJewishMom.com. on the exciting journey of giving greater meaning to the everyday through creativity. This blog is my way of sharing with you the joys of crafting, decorating, cooking, and gardening. I love simple ideas, recycling and quick transformations.