Fathers Day Fish Card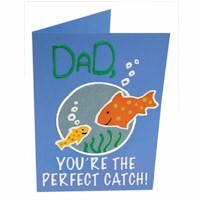 There's nothing fishy about this Fathers Day Fish Card.  It's heartfelt, fun, and filled with bright colors and perfect for the Dad who loves to fish or has a fish tank as his hobby.
Supplies
Americana Acrylics
DA201 - Primary Yellow
DA228 - Bright Orange
DA235 - Citron Green
Americana Writers
DAW01 - White
DAW67 - Black
DAW230 - Christmas Green
DBR2004-B - Round #4 Amercana Brush
#8 flat brush
Light blue construction paper
Two simple fish stencils of varying size (one small, one large)
Craft glue
Water container
Palette or plastic plate
Paper towels
Pencil
Blank blue card 5-1/8" x 7"
Instructions
Cut 3" circle from construction paper. Glue circle onto center of card face.
Place large fish stencil halfway onto circle at right and trace shape using pencil. Place small fish stencil halfway onto circle at left so that it faces large fish and trace shape using pencil.
With #8 flat brush and Bright Orange, paint large fish, allowing to dry between coats. With #4 round brush and Primary Yellow, paint small fish and allow to dry between coats. (Second coats may be necessary on both fish.)
Dip end of brush handle into Citron Green and gently dot spots on large fish. Do same to small fish with Bright Orange.
Using White Americana Writer, carefully outline both fish and outside of circle. Use Black Americana Writer to dot eyes on each fish and add curving smile.
With White Writer, draw tiny circles to represent bubbles just above each fish. With Christmas Green Americana Writer, draw squiggly lines inside circle at bottom.
Write "Dad" and comma at card top with Christmas Green Writer. With White Writer, write words "You're the perfect catch!" along card bottom.
Allow to dry thoroughly.
Contributor

DecoArt
DecoArt® has one of the widest selection of paints and finishes for arts, crafts, and home decorating. All DecoArt products are non-toxic and user- and enviromently-friendly. Visit the DecoArt web site for free projects, how-to idea videos, tips and product info, and for the DecoArt on-line store.