Father's Day Back Scratcher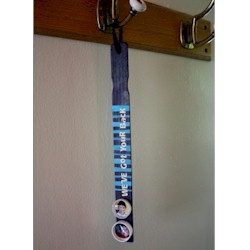 Use inexpensive materials, including an upcycled paint stirrer or ruler, to make a fun back scratcher for Dad this Father's Day.
Supplies
2 Plastic Caps (like those from a water bottle or an orange juice carton)

Wood Paint Stirrer or Ruler
Craft Paint
Ribbon
Glue

Alphabet Stickers (optional)

Drill (optional)

Instructions
(Optional) If you want to hang your back scratcher when it's finished, drill a small hole in the lower part of the handle. (When you're all done with the project, add a ribbon through the hole).
 
Paint the handle- I used acrylic paint, masking tape and alphabet stickers to decoratively paint the handle.
 
Glue the plastic caps to the top end of the paint stirrer (Opposite end from the drill hole). Use Guerilla glue or Krazy glue to be sure it attaches securely. You may need to roughen up the plastic caps to get the glue to work optimally. I added pictures of my kids to the inside of the caps. If you do this, be sure to position the pictures so they are upside‐right when the scratcher is hanging.
This craft was designed by Cristin Frank and is reprinted courtesy of FaveCrafts.com. Click here for a link to a video of this craft.
Contributor
FaveCrafts.com
FaveCrafts is owned by Prime Publishing LLC, an Internet Media Company that operates web site communities, e-mail newsletters and e-commerce stores in niche areas such as crafting, home décor, wellness, and cooking. See their craft projects at https://www.favecrafts.com/