Fancy Witch Hat Decoration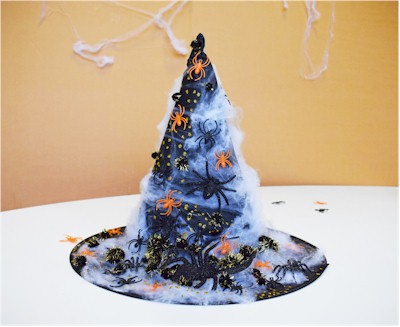 Having a Halloween themed party or just decorating the house in the spirit of Halloween, you'll love the impact this Fancy Witch Hat Decoration has on your guests. Teens will have a grand time decorating for the holiday that is fast becoming one of America's favorites.
Supplies
Witch hat
Spiderweb
Glittery pompoms
Gold glitter glue
Giant black glitter spiders
Small orange & black plastic spiders
Instructions
1. Take your hat and stuff the inside with scrunched up newspaper.
2. Secure the hat by applying a small strip of masking tape to the back of the hat and attaching to the table.
Create double-sided sticky tape, place under the rim at the front of the hat, and press down to secure.
3. Begin to expand the spiderweb and drape it over and around the hat. Aim for a thick web at the bottom, and a sparser web towards the tip of the hat.
4. Apply blobs of UHU at several points under the web, and press in place to attach it to the hat.
5. Apply UHU glue to a large glitter spider, and stick it to the rim of the hat.
6. Begin glueing other, smaller orange and black spiders to the rim and cone of the hat.
7. Add a few larger glitter spider to the cone of the hat, and fill in some space with smaller spiders.
8. When you are happy with the spiders, move onto the pompoms. Glue them onto the hat, so that they are concentrated and large near the big spider, and smaller and more spaced towards the top of the hat.
9. Finally, add small dollops of glitter glue around the large spider, rim of the hat and up the cone between the spiderweb.
10. Leave to dry. Remove the tape and stuffing.
Contributor

Expert Home Tips
Stephanie Cvetkovic, Content Editor. Expert Home Tips is a beautifully curated collection of all the best home hacks, living tips, competitions and more.
Supplies
Instructions
Contributor

Sudbudz
Want to have some creative family time? Print out our SudBudz® Masks and get crafty with the kiddos! More than just a typical Fizzy Bath Ball, SudPrize® is a first ever line of skin-loving and natural bath products that make bath time Fun for Kids and Easy for Moms. A Free companion App, SudBudz® engages your children into an immersive world of special and unique characters called SudBudz®.