F-15 Paper Airplane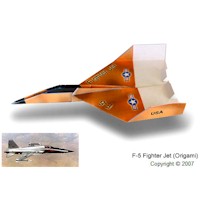 We thought this F-15 Paper Airplane was a fun craft for Fathers and their children on Father's Day. It will probably take quite a bit of help from Dad, but isn't that what Father's Day is all about…fun time together!
You might also like to try these crafts:
Supplies
Pattern
Scissors
White Paper
Instructions
Click on Printables for complete illustrated directions.
This craft reprinted courtesy of AmazingPaperAirplanes.com.
Patterns, Templates and Printables
Click on a pattern to open it in a new window