Eyeball Cupcakes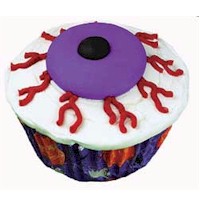 Supplies
your favorite cake mix
your favorite white frosting recipe
muffin pans
paper muffin liners
food coloring
decorating bags and tips
tiny bit of cornstarch
Instructions
Make your favorite cake mix and pour to two-thirds full into each area of a Muffin Pan (to make bigger cupcakes).
Ice cupcake smooth in white frosting with spatula.
Using a Tip 12, pipe a ball shape (iris) in purple frosting, about 1 1/2 in. diameter.
Use a Tip 2 and pipe string veins in using red-red/Christmas red combination frosting.
Using a Tip 4, dot black frosting onto the purple pupil and flatten/smooth with finger dipped in cornstarch.
This craft was designed by Mary Ann Ross and Kimberly Lainson, the party divas at ThePartyWorks.com.
Contributor

FabulousLiving.com
Cheri Sicard is the editor of FabulousLiving.com, a website specializing in crafts, holidays, do-it-yourself and more. www.fabulousliving.com
Tags cupcake crafts
Newsletter
Subscribe to our free newsletter to get creative crafts mailed to your inbox.