Emma's Apartment From A Recycled Box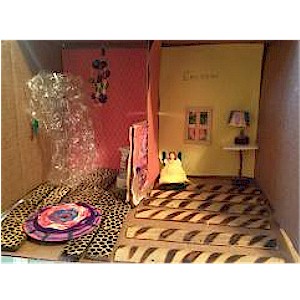 Emma's Apartment From A Recycled Box was submitted by Amelia from Auburn, Alabama. Amelia  is very creative and thinks of ways of using things in amazing ways. The things she used were recyclable items. Amelia is 9 years old and a third grader at Wrights Mill Road. She enjoys singing, reading, dancing, theatre, and art! She is a "Who" character in the local high school's production of "Seussical the Musical." She also loves her pets-Maggie, Ruby, and Scottie.
Trivia: Did you know that packing peanuts are  made of polystyrene and can take hundreds of years to decompose.
Supplies
Cardboard box
Green paper
Beads
Pipe cleaners
Wood pieces
Felt
Styrofoam shipping peanut (1)
Popsicle sticks
Bubble wrap
Tempera paint
Paper towels
Cd
Yarn
Plastic milk cap
Coca cola plastic bottle cap
Paper condiment cup
Dixie cup
Plastic top from a gumball machine prize
Piece of Styrofoam from a lunch tray
Plastic ketchup container
Handle of a doll's plastic hanger
Scrapbook paper
Instructions
Amelia used beads from an old bead belt as the chandelier in her house. She used bubble wrap for the shower. For the wallpaper, she used scrapbook paper. She painted Bounty paper towels to create the door (glued to a piece of cardboard) and added a bead for the doorknob. For the toilet she used a small bathroom drinking cup and the plastic lid from a bubble gum machine prize. The sink is a small bathroom drinking cup, an empty ketchup container, and the hook of a plastic doll hanger. The wooden pieces on the floor are from an old jewelry box. The rug is a CD weaving (great tutorials for this on Pinterest). She took the cd and first put the warp strings on. Then she starting weaving with yarn and finished it by painting the edges.
In the bedroom of the apartment, Amelia used scrapbook paper for the wallpaper. The window is made from popsicle sticks and a picture of a flower from a magazine. The bed is made from a pipe cleaner, the blanket from felt, and the pillow from a Styrofoam packing "peanut." I thought her lamp was really cute. The base is a plastic milk cap, the center is a pipe cleaner and she added beads to this, and the lamp is a paper condiment cup. The table base is part of a Styrofoam lunch tray. The wooden floor is from an old jewelry box.
Take Amelia's idea and create your own rooms using items that you have around the house to recycle. Be creative.
Contributor

FreeKidsCrafts Contest Winner
IT'S A WINNER! Take a look at what one of our talented viewers submitted to share with you. This craft was selected as one of this month's winners to received $50 in craft supplies. Click here to find out how you can enter your original creation for our judges consideration.