Egg Carton Witch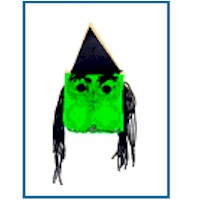 Halloween is a fun time to decorate with ghosts, goblins and witches.
Supplies
Cardboard egg carton
Green tempura paint
Black yarn
Black constuction paper
Scissors
Black marker
Elmers Glue-All
Instructions
Cut off end of egg carton so that you have a square shape with 4 egg cups.
Paint 4-egg section of the carton green and let dry.
Use black marker to color in the bottom of the top two egg depressions to make the witch's eyes.
Glue black yarn on sides of carton for stringy hair. Use black string, yarn and Elmer's Glue-All to make bushy eyebrows above the eyes.
Use black marker to draw black warts on the raised bumps of the egg carton (the center bump is the nose, and the bottom center bump is the chin).
Draw a mouth, etc. if you want one.
Cut out a triangle from the construction paper. Fold it into a cone or other shape, and glue it to the top of the egg carton for a hat. Allow to dry.
Hang your egg carton witch on the wall!.
This craft is reprinted courtesy of Elmers.
Contributor

Elmers