Easy Egg Carton Caterpiller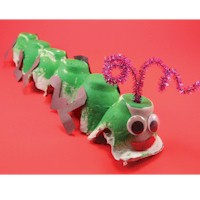 This little creature made from recycled egg cartons will delight the youngest crafters.
Supplies
1 row of an egg carton
Pipe cleaner, google eyes, and other embellishments.
1 sheet construction paper
Green poster paint and brush
White glue
Scissors
Instructions
Paint egg carton row with green paint. Allow to dry.
Cut 12 identical feet from construction paper.
Glue feet and other embellishments onto painted carton, using materials such as felt, pipe cleaners, pom-pom balls, or google eyes.
Contributor

Kideas
At Kideas, you'll find crafts, recipes, party ideas, and activities for children of all ages. Everything on the site is 100% free for use by parents, teachers, scout leaders, and child care providers.