Easy Proud Penguin Parents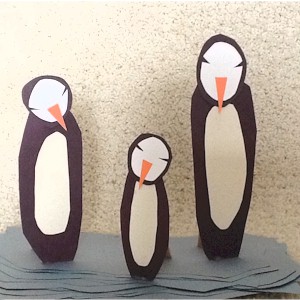 These Easy Proud Penguin Parents were designed by our latest contest winner, Megan from Milford, Indiana. Megan has fun crafting with her great aunt when she spends the night. Craft nights are fun for all ages.
Supplies
4 pieces of Blue construction paper
1 piece of Orange, Black, White construction paper
6 Popsicle sticks
Scissors
Glue stick
Hot glue gun and sticks ( parents supervision)
Instructions
1. Cut blue paper into thirds, now randomly cut jagged lines into paper.
2. Stack & glue blue paper to make your iceberg.
3. Cut 3 black ovals of different sizes for the bodies.
4. Cut 3 white smaller ovals & glue inside the black ones.
5. Cut 3 black circles for the heads.
6. Cut 3 smaller white circles with slits on each side for eyes, then glue inside black circles.
7. Glue circles ( heads ) to top of ovals ( bodies ).
8. Cut beaks from orange paper and glue to head.
9. Glue the circles to the ovals.
10. Glue the Popsicle sticks to the back of penguins and another one at an angle for support.
11. Then glue your penguin family to the iceberg.
Contributor

FreeKidsCrafts Contest Winner
IT'S A WINNER! Take a look at what one of our talented viewers submitted to share with you. This craft was selected as one of this month's winners to received $50 in craft supplies. Click here to find out how you can enter your original creation for our judges consideration.