Easy Jellyfish Craft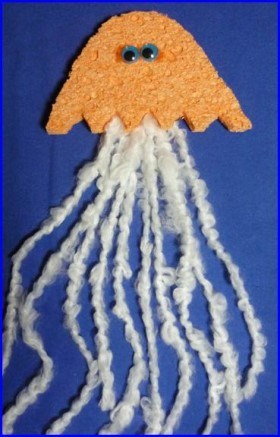 All it takes are a few simple supplies to make this Easy Jellyfish Craft. It is a great classroom project and fun for the kids to make at home too.
Trivia: Some jellyfish are bigger than a human and others are as small as a pinhead
Supplies
Kitchen Sponge (without scrubber side)
5 Strands of Yarn (20" each)
2 Googly Eyes
Large Paperclip or 4 1/2" Piece of Wire
Glue
Instructions
Cut the sponge into the shape of a jellyfish body.
Make the wire into a "U" shape. (If using a paperclip, straighten entire paperclip and then form the "U" shape.)
Wrap the yarn over the wire (or paperclip).
Insert ends of wire (paperclip) into bottom of sponge. Press firmly to secure.
Glue googly eyes onto jellyfish body.
Contributor

CraftBits
Our website was created by a mother and daughter team, adding a unique combination of crafting qualities and expertise of creativity. We started our website after numerous years in the area of craft, teaching, retail craft and owning a gift store. We decided to launch it to provide resources for teachers, therapists, and craft enthusiasts in the year 1999. Since then, the website has grown tremendously in terms of content and resource information.