Easy Flip Flops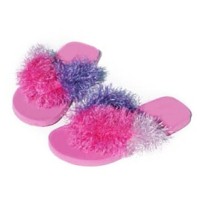 Great pair of slippers and a fun gift to make for a friend. Don't forget to treat yourself with a pair too.  Plan ahead and start making Christmas gifts for your teenage friends now.
Supplies
1 Ball 320-300 Fun Fur Yarn: Stripes: Cotton Candy
Flip Flops
Scissors
Instructions
With one strand, wrap the Fun Fur around the outside end of the strap of the flip-flop (close to the heel where the strap starts) and tie a knot. NOTE: It is prudent to tie the knot at least three times to keep it from slipping. You may additionally use hot melt glue to secure the yarn, but don't put the glue where it will rub on your feet and be uncomfortable.
Wrap the yarn around and around the strap, pulling it back towards the beginning to make it dense and furry. Continue to the end of the strap.
When you reach the end of the strap, tie another knot to secure the Fun Fur. NOTE: It is prudent to tie the knot at least three times to make sure that it will hold. Secure the knot with a dab of hot melt glue if you wish.

Cut the yarn.
For the second flip flop, make sure to start the yarn on the outside end of the other flip flop in the same color that you started the first so your flip-flops match. Repeat steps 1 through 4 to complete the second flip flop.
Optional Finish your flip-flops by gluing a large button, rhinestone, or beads to the toe.
This craft reprinted courtesy of Lion Brand Yarns.
Contributor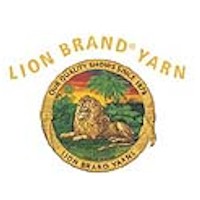 Lion Brand Yarn
Lion Brand is a family-owned and operated business and a beloved American brand since 1878. Today, the business is run by four members of the fourth generation of Blumenthals. It is their passion for yarn, reflected by all Lion Brand associates, that is the secret to Lion Brand's success.