Easy Emoji Pillow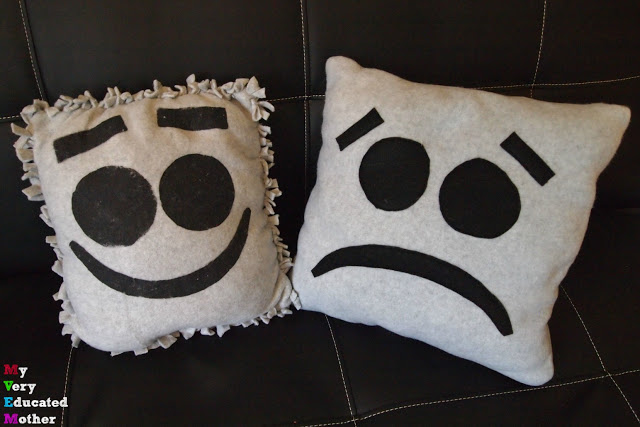 This Easy Emoji Pillow will bring smiles to everyone's face as you turn it front or back to express your feelings. Making it is a good beginning sewing project or you can make it in a no-sew version. Something most kids can at least help with and some will be able to do all by themselves.
Supplies
Fleece and felt (colors are completely up to you)
Scissors
Fabric paint or Fabric Glue
Pillow stuffing
Instructions
EAST SEWING INSTRUCTIONS
Use the pattern pieces to cut out your emoji facial features in felt. Cut two matching pieces of the fleece, whatever size or shape you desire. One will be the back and one will be the front. I went with a square because it is easy! Remember to allow for a 1/4 inch allowance.
Pin your face in place and sew it on with coordinating thread. DON'T FORGET to turn your smile upside down to create a frown and to move your eyebrows to the side.
Trim your corners and remember to leave an opening at the bottom of your pillow, preferably in the middle.
Stuff and then close with a simple whip stitch.
NO SEW OPTION:
First cut the fleece into two matching pieces, like I mentioned before, I used a square because it was easier.
You'll be using this as a stencil, so CAREFULLY cut out your emoji facial features.
Create your emoji happy and sad faces using fabric paint which will dry soft to the touch. Let them dry before moving on to the next step.*
With wrong sides facing line both your pillow pieces up, square off the corners, and make cuts at least an inch and a half long around the edges.
Begin tying the back and front pieces together. Leave one end open, line the inside with a plastic bag or old pillow case, fill with stuffing, and then finish tying until the pillow is closed. You don't necessarily need to line your pillow but I wanted to make sure none of the stuffing would come out.
*Editor's Note: You might also consider using Fabric Glue to attach the Emoji features.
Patterns, Templates and Printables
Click on a pattern to open it in a new window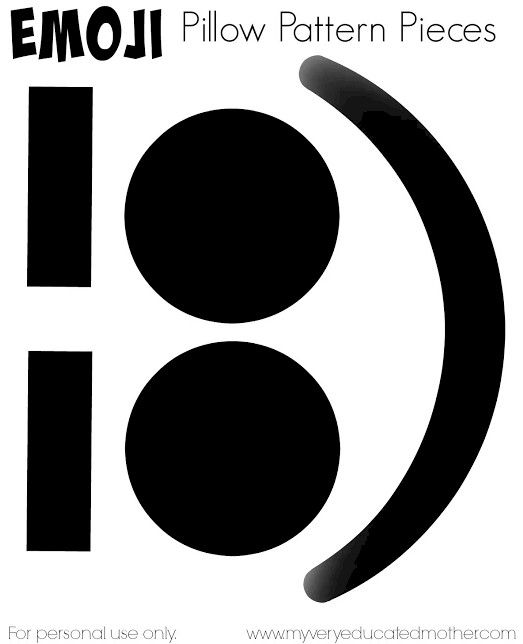 Contributor

My Very Educated Mother
Erin Sipes is a writer, crafter, and homeschooling mother of (soon-to-be) four based in rural Missouri. She is also the voice behind My Very Educated Mother, a blog dedicated to advocating the benefits of a creative home by sharing kids crafts and family-friendly recipes, as well as encouraging self-reliance, recycling, and responsible consumerism.