Easy Brownie Owls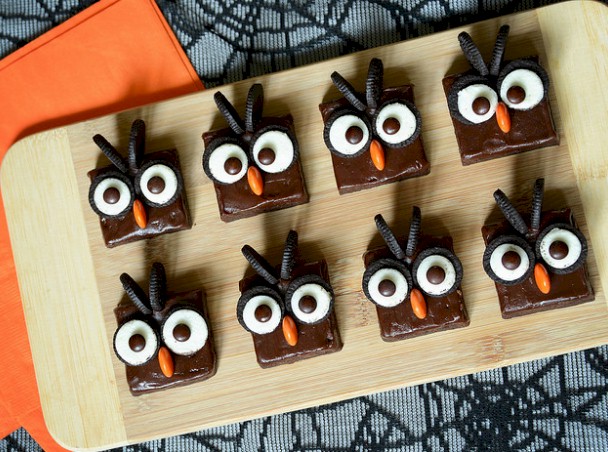 These Easy Brownie Owls the perfect party treat for Halloween or Thanksgiving.  You could be the favorite class mother with very little effort if you bring these in for a treat.
Supplies
1 Box  of prepackaged brownies (package of 6)
1 Bag of mini Oreo cookies
12 Orange Smarties
24 Brown M&M's Minis
Instructions
Unwrap a brownie and slice it in half to give you 2 brownies.
Twist 2 mini Oreo cookies apart and place icing side up on the brownie to make the eyes. Place 2 M&M's Minis on the eyes and add 1 orange Smarties to make the beak.
Take the remaining 2 Oreo pieces (from the separated cookies in the previous step) and stick them into the brownie above the eyes on a diagonal.
Contributor

Meet The Dubiens
I love crafting with my kiddos, creating super fun lunches for them in the kitchen and taking pictures of them. My blog is a place for me to share all these things. I hope you enjoy!