Easter Lilly Treat Bag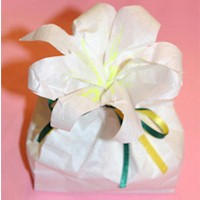 This quick treat bag is easy enough for grade schoolers. Use it for your Sunday School Class and talk about the symbolism of the Easter Lily. Or, wouldn't Grandma love this filled with marshmallow peeps and jelly beans from her favorite little Easter bunnies?
Supplies
White Lunch Bag
Dark Green Ribbon
Yellow Highlighter Pen
Optional, Gold Pen or Sticky Foam Letters
Easter Stickers, optional
Easter Grass, Treats
Instructions
Add name or phrase such as "He is risen!" along bottom of bag with foam letters or a gold pen.
Cut top of lunch bag as shown. Cuts should be about 2 1/2 inches long.
Fill bag with Easter grass and treats as desired.
Carefully gather the top of the bag, just under the cuts, arranging the petals neatly. If some petals seem too wide, just cut down the middle.
Tie bag with dark green ribbon. (A coordinating ribbon may also be added). Tie into bow.
Color center of lily in with yellow pen, adding 2 or 3 yellow streaks to each petal.
When marker is dry, curl ends of petals by wrapping around a pencil.
Add stickers such as a butterfly to one petal, if desired.
This craft was designed by Cindy of Waynesburg, Pennsylvania and is reprinted courtesy of ThriftyFun.com.
Contributor

ThriftyFun
Our goal at ThriftyFun.com is to provide valuable information to help people save money, save time and solve problems. ThriftyFun and its predecessors have been online since 1997. ThriftyFun has grown from modest beginnings to become a vibrant online community. Today, ThriftyFun.com is an interactive Web site where you can post questions and contribute answers to others who are trying to have fun while saving money.