Duct Tape Locker Mirror Craft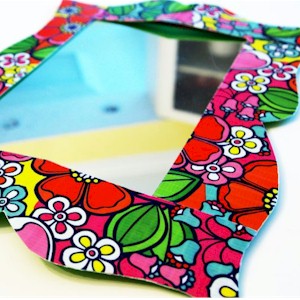 Open your locker door and this Duct Tape Locker Mirror will make an instant statement. It's fun and easy craft to make and will make you smile every time you take a peek. Start the trend!
Supplies
Mirror
Scissors
Cardboard
Duct Tape
Ruler
Pencil
Instructions
Trace around your mirror on cardstock and then draw a frame 1/2" smaller. This creates an edge to glue the frame to.
Cut out the frame and cover it with duct tape.
Gently fold the paper in half without creasing it and cut out a shape from both halves at the same time. Julst like butterfly patterns, folding it in half means that the design will be cut the same on both sides.
Use craft glue or a glue gun to affix the frame to the right side of the mirror. Hang it up in your locker.
Your friends will love the look.
Contributor

BrassyApple.com
Brassy Apple - A small time girl doing what I love – Designing, sewing and creating "brassy" style patterns. I love crafting up my ideas and sharing my tutorials, ebooks and DIY kits.