Drinking Straw Christmas Tree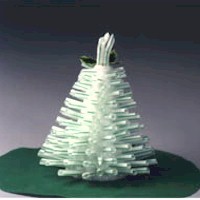 Simple idea for a charming little Christmas tree craft. Kids can make a whole forest.
Supplies
1- 4" STYROFOAM* cone
25 plastic drinking straws (with green stripes)
Thick, white craft glue
Long scissors
1 Small sprig holly, red bow, or other embellishment (optional)
Instructions
Cut the straws into 1 1/2" pieces.
Pour a small amount of glue onto wax paper, cardboard or other disposable surface.
Dip the end of each straw into the glue and insert straight into the cone. Arrange the straws in vertical rows around the cone. Fill in empty areas around the bottom of the cone as necessary.
Insert three pieces with bent ends into top of cone; bend ends out slightly. Let dry.
Trim the straws so the straws at the base of the cone are much longer than those at the top. Cut vertically from the bottom of the cone.
If desired, add a small embellishment to the top of the cone (we used a sprig of holly).
This craft was designed by Kathleen George and reprinted courtesy of the Dow Corporation makers of Styrofoam Brand products.
Contributor

Styrofoam Brand Products
STYROFOAM™ brand from Dow is one of the most trusted and widely known brand names in the craft industry. From Christmas ornaments to wedding topiaries, they have helped shape your crafting memories for 60 years. Today, their high-performance foams are helping you make tomorrow's memories.