Dragonfly Dreams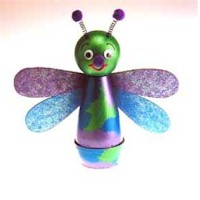 Ad a bit of sparkle to your room with this Dragonfly.
Supplies
Renuzit® LongLast® Adjustable Air Freshener*
Dazzling Metallics® Paint
  Ice Blue
  Green Pearl
  Purple Pearl
Crystal brush-on glitter paint
Multi-purpose sealer(optional)
2 1/2" diameter hard-pressed foam ball
Fun foam sheets: purple and blue
Dimensional fabric paint Berry Red
Wire 12" length, 22 gauge, Orchid
Wiggle eyes: Two, 12mm
Pompoms: Three, 1/2" purple
Craft glue
Glue gun & glue sticks
Serrated knife
Fne sandpaper
Paintbrush
Ruler
Pencil
Scissors
Craft snip
Needle-nose pliers
Permanent fine tip black marker
Heavy-weight plastic bag
Instructions
PREPARE SURFACE: Use serrated knife to cut a 1" diameter slice off the bottom of foam ball. Lightly sand seam of foam ball to make smooth. For best paint adhesion, cover Renuzit® topper, base and foam ball with Multi-purpose sealer, or lightly sand topper and base to rough surfaces. Let Dry.
PAINT HEAD: Paint foam ball with Green Pearl. Let dry.
PAINT BODY: Referring to photo, paint Renuzit® topper and base with Ice Blue, Green Pearl and Purple Pearl. Feather edges of each color by placing a small amount of paint on end of brush and drybrushing, or gently brushing out, away from edge of color. Let dry. Use glue gun to glue cut edge of head to top of Renuzit® topper.
PAINT MOUTH: Place plastic bag over mouth pattern and trace using Berry Red dimensional paint. Let dry.
WINGS: Cut 2 wings from purple foam and 2 from blue foam according to pattern. Use paint brush to cover one side of each wing piece with Crystal Craft Twinkles.
FACIAL FEATURES: Carefully remove mouth from plastic bag. Refer to photo for placement and use craft glue to glue mouth to face. Glue purple pompom nose and eyes to face. Use black marker to draw eyebrows above eyes.
ASSEMBLE ANTENNA. Cut two 6" lengths of wire. Coil one 6" length around small end of paint brush handle leaving a 1/2" tail on each end. Use needle-nose pliers to turn a loop in one end of wire. Hot glue one purple pompom to looped end of wire. Repeat for other antenna. Press straight end of each antenna into top of head and glue in place.
ASSEMBLE BODY: Referring to photo, with Craft Twinkles side up, overlap straight edges of purple wings 1/4" and glue together. With straight edges at approximately a 45° angle, position and glue blue wings on top of purple wings. Glue center of wings to back of Renuzit® topper.
GEL REPLACEMENT: When the original gel is depleted, simply replace with a new container base. If your project base is decorated, remove dried gel. From a new container, remove new, non-toxic gel. Then slip it over the post of the decorated base and reposition the decorated topper.
This craft is reprinted courtesy of Renuzit.
Contributor

Renuzit