Dracula's Dentures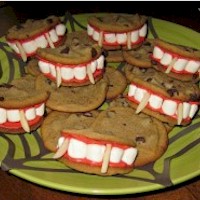 Here is a Quick and Easy way to dress up your Chocolate Chip Cookies for Halloween or a Vampire Party. Everyone at the party will definitely want to sink their teeth into them !!
Supplies
Chocolate Chip Cookies
Vanilla or White Frosting
Red Food Coloring
Mini Marshmallows
Almond Sliver
Instructions
First you need to color your Frosting Red.
Then just cut your Chocolate Chip Cookie in Half. Then Frost each Half with your Frosting.
Then on one of the halves stick on your Mini Marshmallows – Approx 6 around the front of the Cookie as shown. Add an extra one in the back of that for stability. Then Place your other half on top.
Then take 2 Almond Slivers and stick them on and if needed you can dip the end into frosting to secure them. That is it – Now how cool is that?
This craft is reprinted courtesy of The Party Animal where you will find lots of ideas for the perfect party.
Contributor

ThePartyAnimal.org
If you are looking to have a party to remember then thepartyanimal.org is the right place to come.