Dollar Bill Rose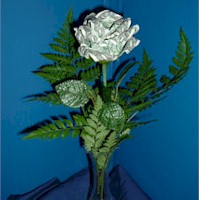 This Dollar Bill Rose is especially fun for teenagers who always want cash, but you are looking for a unique way to give it. Give as large a bouquet as you feel appropriate.
Supplies
5 or 6 new dollar bills per rose
(depending on how full you want the rose to appear)
24 gauge wire
wire cutters
short length of 1/4 inch dowel
floral tape
rose stem
rose calyx from an artificial rose
Instructions
Click on printables for complete illustrated instructions. 
Fold all bills in half.
Assemble the center of the rose. Fold each half of the dollar bill over 1/4 towards the middle of the bill. Pinch the bill from the outer edges in an accordion style. The bill should look like a bowtie. Secure the center by twisting a 4 inch piece of wire around the center. Gently bend fanned bill edges towards the center.Gently roll corners towards the center of one side to form a fluffy cone shape.  Shape other side of bill around cone to form a rose center. The rose center is now completed.
Create the rose petals. For the rose petals, hold the corners of the GREEN side of the bill. Tightly roll each of the corners around a 1/4 inch dowel. Roll each of the 4 corners of the dollar towards the dollar center, crimping each corner as you go.  Pinch the center of the bill into an accordion style, then secure with a 4 inch piece of wire.  You'll need to cup each of the rose petals, and keep them very tightly secured. Begin with the center and add petals around the center. Make sure that the base of each dollar is very close to each of the other twisted wires. Make 4 or 5 more petals, depending on how full you would like the rose to be.
Making the rose stem. Place the rose calyx over the wire into an upright position. Place the artificial rose stem alongside the wire and wrap with floral tape. Your rose is finished.
This craft is reprinted courtesy of ThriftyFun.com.
Patterns, Templates and Printables
Click on a pattern to open it in a new window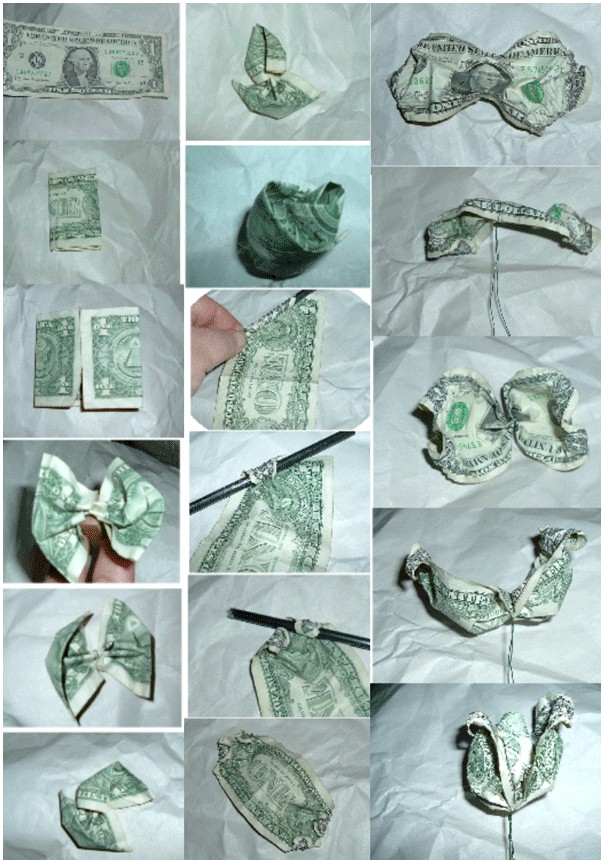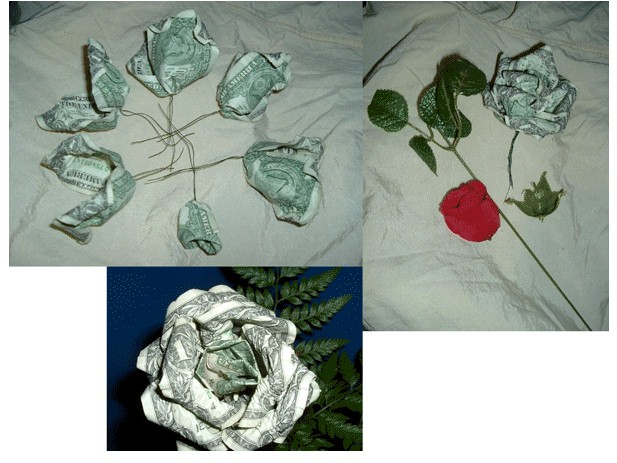 Contributor

ThriftyFun
Our goal at ThriftyFun.com is to provide valuable information to help people save money, save time and solve problems. ThriftyFun and its predecessors have been online since 1997. ThriftyFun has grown from modest beginnings to become a vibrant online community. Today, ThriftyFun.com is an interactive Web site where you can post questions and contribute answers to others who are trying to have fun while saving money.