Dinosaur Puppet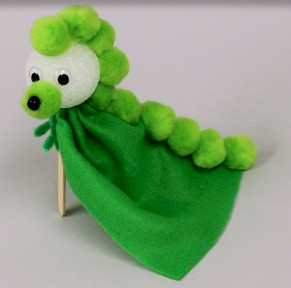 This Dinosaur Puppet is a fun project to introduce students to a discussion about the world of dinosaurs. It is also a cute prop for your own puppet show where the students can make up stories for puppet to act out.
Supplies
2″ Foam Ball
Two 12mm wigge eyes
Eleven 1″ green pom poms
10mm Back Pony Beads
6″ x 9″ Green Felt
6″ length green chenile stem
Double sided tape
Paper Plate
Pencil
Small Plastic Bag (to hold parts)
Wire Cutter*
Glue Gun or thick white tacky glue*
Pointed Scissors*
Ruler
Transparent Tape
Instructions
To hold puppet, insert 1/2″ of end of craft stick into bottom of foam ball. Remove, apply hot glue to the end, and re-insert (or use thick white tacky glue and dry overnight) Hot glue two eyes, side-by-side about 1/4″ apart on each foam ball. Also hot glue one green pom just under eyes for muzzle. Then glue black pony bead nested into green pom for nose.
Use wire utter to cut chenile stem into 6″ length
Horizontally place 6″ x 9″ felt on table. Fold over 1/2″ at top and tape to hold in place. Use scissors to make a 1/8″ vertical snip approx. every 1/2″ across full length (9″) of fold. This creates holes for weaving. Remove tape and unfold.
Weave chenille stem in and out of holes, allowing felt to gather.
Contributor

FloraCraft
FloraCraft(r), locally owned and operated in Michigan, has beenserving the craft and floral industries for 65 continuous years, providing quality STYROFOAM(tm) Brand Foam in shapes and sheets. We are dedicated to helping beginners and professionals achieve their best results, FloraCraft products are the foundation of every great project.
Supplies
Instructions
Contributor

Sudbudz
Want to have some creative family time? Print out our SudBudz® Masks and get crafty with the kiddos! More than just a typical Fizzy Bath Ball, SudPrize® is a first ever line of skin-loving and natural bath products that make bath time Fun for Kids and Easy for Moms. A Free companion App, SudBudz® engages your children into an immersive world of special and unique characters called SudBudz®.