Decorative String Art Letters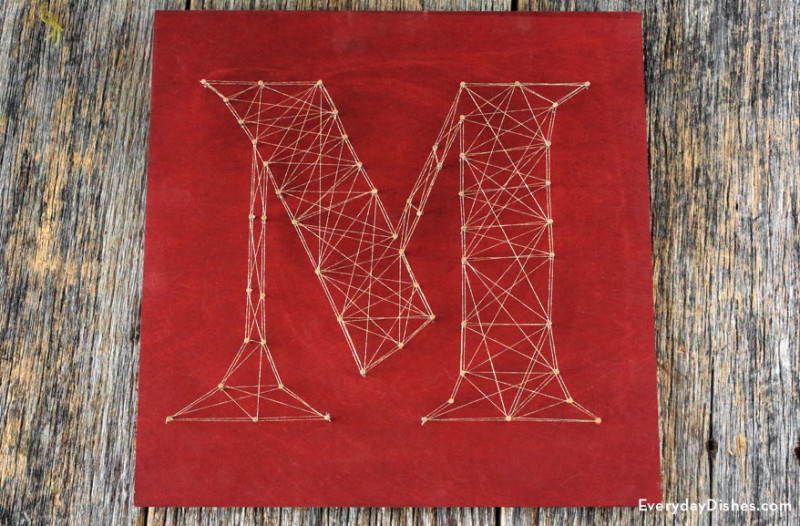 These Decorative String Art Letters are a good project for adults to do with kids. Working with a hammer and nails is ok for the older kids but the younger ones may enjoy working to string the nails and see their initial evolve.  Make sure to pick a typeface that has some width to it to make it work well.
Supplies
Birch plywood, ⅜" x 12" x 12"
Paint
Brush
Printout of desired letter
Wire nails, #18 x ⅝"
Hammer
Thread or fine string
Scissors
Hanging hardware
Instructions
Paint front and sides of plywood desired color, then allow it to dry.
Choose desired letter and font. Enlarge it as much as possible to fit 8.5" x 11" paper then print out.
Place printout on plywood and begin outlining the letter with nails, using a hammer to secure them in place (refer to our photos). Space nails approximately ½"–1" apart. Space them closer together to form any curves.
Knot one end of thread and, starting at one corner of the letter, wrap thread just below the head of the first nail. Continue to wrap around each of the nails, in no particular pattern, until it starts to form the shape of the letter. Fill in the letter by crisscrossing the thread. Once complete, knot the thread then trim excess.
Flip plywood over and carefully attach hanging hardware to the back—the nails for the string art will support the board to keep it from wobbling.
Contributor
Everyday Dishes & DIY
Everyday Dishes & DIY (formerly Cherylstyle) is an online lifestyle media company stirring up dependable recipes and crafts for the everyday family. We collaborate, develop, test and re-test all original content in-house, working out the kinks so you don't have to! Everydaydishes.com publishes new recipes, diy projects, craft ideas and videos daily.