Cupcake Liner Photo Project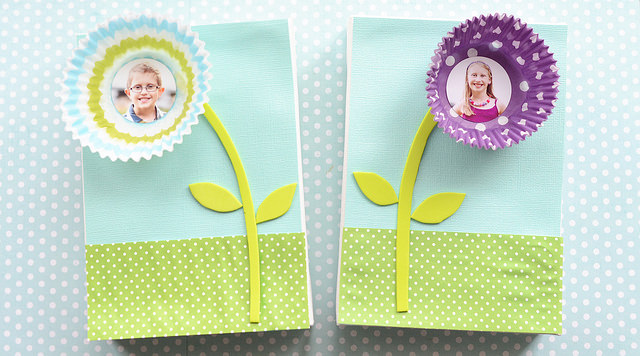 This easy to make Cupcake Line Photo Project makes the perfect gift for Mother's Day or any special occasion and will become a treasured keepsake long after the holiday is over.
Supplies
2 Cupcake liners (design of your choice)
1 5x7 Piece of blue cardstock paper
1 5x2 Piece of patterned green cardstock paper
1 Piece of green craft foam
1 5x7 Piece of stretched canvas
Picture of your child
Glue
Scissors
Instructions
1. Lay down the piece of canvas. Glue the 5x7 sheet of blue cardstock paper to the piece of canvas. Then take the 5x2 piece of patterned green cardstock paper and glue it to the bottom of the canvas, covering the blue at the bottom.
2. Using scissors, cut a flower stem and two petals out of the green craft foam. Glue the stem and petals to the canvas.
3. Leave one cupcake liner as is and turn the other liner inside out. Glue the inside out liner inside the regular liner. This way, both the outside and the inside of the flower will show the patterned design of the cupcake liner.
4. Glue the cupcake liner to the top of the craft foam flower stem.
5. Cut the photo of your child into a circle the size of the cupcake liner base. Glue the photo in the centre of the liner. Allow to dry completely.
Flowers made out of cupcake liners and craft foam, with photos of children in the center of the flowers.
Contributor

Meet The Dubiens
I love crafting with my kiddos, creating super fun lunches for them in the kitchen and taking pictures of them. My blog is a place for me to share all these things. I hope you enjoy!