Crawling Caterpillar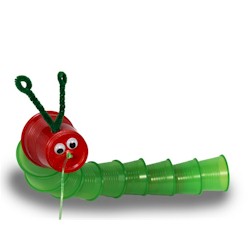 The kids will love to play with this Crawling Caterpillar as you read to them from some of their favorite books.  Visual reinforcements often make story time even more fun.
Supplies
10 Green plastic cups
Cardboard rolls
String
Joggle eyes
Pipe cleaner
Books you might want to read with this craft:
The Very Hungry Caterpillar
by Eric Carle
From Caterpillar to Butterfly by Deborah Heiligman and Bari Weissman
Charlie the Caterpillar by Dom Deluise and Christopher Santoro
Clara Caterpillar by Pamela Duncan Edwards and Henry Cole
Instructions
Punch a hole into the base of each plastic cup by placing a blob of plasticine or wall tac under the cup and pushing a pencil through the bottom.
Cut the cardboard rolls into pieces about 5cm long.
Tie a large knot into the string and thread it into the cup and out the bottom.
Next thread on a piece of cardboard roll.
Repeat with cups and card rolls until the caterpillar reaches the
length you like.
Before threading on the last cup, punch 2 extra holes into the base at
the top of the circle. Thread the pipe cleaner in and out of the holes
to form the antennae.
Then tie off the last cup. Use the remaining length of string to pull
the caterpillar along.
Stick on some joggle eyes and your caterpillar is ready to wiggle!
Contributor

Jellyfish Jelly – Creative Kids
Jellyfishjelly is the work of Miya Maeda."My work is intended to be a simple guide for non-crafty, "creatively-challenged" parents.  The concept behind this site arose from what I perceived to be the near universal need for parents of small children to find novel and challenging activities to occupy what can sometimes seem like a very long day."