Cotton Ball Christmas Tree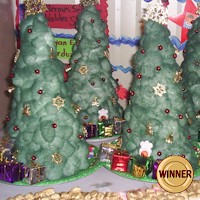 CONTEST WINNER!
Karen Romero, a pre-school teacher from Nogales, Arizona, submitted this clever craft and won $50 in craft supplies.
These beautiful trees can done by very young children with help from an adult.
Supplies
Cotton balls
Small paper plate
Big sheet of construction paper
Ornaments (see photo)
Elmer's glue or any liquid glue
Green spray paint
Silicon gun
Instructions
First make a cone shape with the big construction paper and paste it with silicone to the bottom of the the paper plate, then give it to kids and let them glue the cotton balls to the cone.
When its dry:
-Spray it with the green paint.
-Add ornaments, (you can use sequins, or any you have at home or school) use the silicon gun
Contributor

FreeKidsCrafts Contest Winner
IT'S A WINNER! Take a look at what one of our talented viewers submitted to share with you. This craft was selected as one of this month's winners to received $50 in craft supplies. Click here to find out how you can enter your original creation for our judges consideration.