Cotton Ball Bunny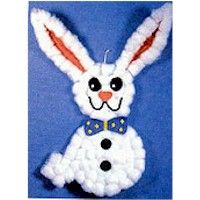 Sit the kids down at the table to make these soft and cuddly little bunnies just in time for Easter. A fun project that's easy enough for the little ones to join in the fun.
Supplies
Cardboard
Felt
Buttons
Black yarn
String
Cotton balls
Scissors
Glue
Instructions
Draw and cut out a rabbit shape from cardboard. Cover the ears with pieces of pink felt.
Outline them with glue and cotton balls.
Spread glue over the rest of the rabbit, and completely cover it with cotton balls.
From felt, cut out and glue on eyes, a nose and a bow tie. Glue buttons onto the body. Glue on black yarn for the mouth.
Attach a piece of short string to the top of the rabbit for a hanger.
This craft was designed by Ann DeLong and is reprinted courtesy of Family Corner.com.
Contributor

Amanda Formaro of FamilyCorner.com
Amanda Formaro is the entrepreneurial mother of four children. She is also the owner of FamilyCorner.com Magazine at http://familycorner.com where you will find recipes, crafts, family activities, parenting advice, home & garden, and plenty more. Be sure to visit the bustling message board community to make some new friends!