Colors Of Faith Snake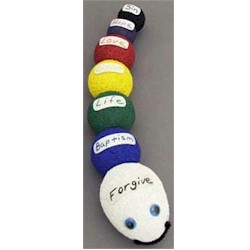 Here's a great project for Sunday School or Vacation Bible School.
Supplies
STYROFOAM™ brand foam:
 (1) - 3" Egg
 (4) – 2" balls
 (2) – 1.5" balls
Plaid® Apple Barrel® acrylic paints: White, Cobalt Blue, Kelly Green, Bright Yellow, Bright Red, Royal Violet, Black
Wiggle eyes
Chenille Stems
Colored Pencils; white, blue, green, yellow, red, purple, black
White paper
Tacky glue
Safety scissors
Wire cutters (with adult)
Toothpicks
Instructions
1.Insert toothpicks into each of the balls and egg to use as handles while you paint.    Paint the egg white, paint the four 2" balls blue, green, yellow and red.  Paint the two 1.5" balls purple and black.  Insert the toothpicks into a scrap piece of foam to dry.

2.With an adult, cut 6 pieces of 2" chenille stem.  Glue one into the wide end of the egg and glue all the colors in place as shown in photo using a chenille stem between each.

3.Cut small paper labels and use colored pencils to label each color of faith.  Glue labels in place.

4.Glue wiggle eyes to the snake and cut a small piece of chenille stem for the mouth and glue in place.
This craft is reprinted courtesy of FloraCraft.
Contributor

FloraCraft
FloraCraft(r), locally owned and operated in Michigan, has beenserving the craft and floral industries for 65 continuous years, providing quality STYROFOAM(tm) Brand Foam in shapes and sheets.  We are dedicated to helping beginners and professionals achieve their best results, FloraCraft products are the foundation of every great project.