Colorful Heart Bough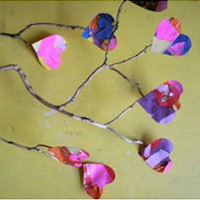 Make a colorful bouquet of Valentine Heart Boughs to decorate your room.
Supplies
Different colors of paper
White glue and brush
Sequins or glitter
Scissors
Tape
Twig
Instructions
Tear up pieces of colorful paper and glue them onto some thin card using watered down white glue.
Add some bling for good measure and wait for the paper to dry.
Cut out heart shapes from the colourful paper – we traced around a heart-shaped cookie cutter to get the hearts all the same size.
Tape the hearts to the ends of a twig.
And there you have a beautiful valentine's day bough to decorate your home or to give to a special someone.
This craft reprinted courtesy of KidsCraftWeekly.
Contributor

kids craft weekly
Each issue of Kids Craft Weekly outlines a selection of activities for young kids. The ideas in are intended to be cheap, educational and fun and can be used as suggested, or simply as a starting point from which you can develop your own plan of attack.