Coffee Filter Daffodil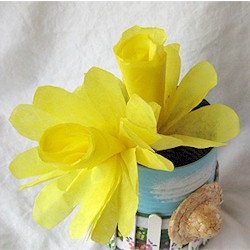 Spring is a wonderful time of year. Flowers are popping up everywhere. Make your own indoor flower bouquet with these Coffee Filter Daffodils. This also makes a nice Mother's Day gift.
Supplies
2 basket coffee filter
1 green chenille stem
yellow watercolor paint
paintbrush
scissors
glue stick
paper plate
2 pieces of paper towel or a kitchen towel
Instructions
Place one of the coffee filters onto the paper plate and flatten out.
Paint the coffee filter with yellow water color paint.
Move the coffee filter to the towel and lay flat to dry. Repeat with the second coffee filter.
When dry, take one of the coffee filters and fold it in half. Now fold in half again, then again, and finally a fourth time. Hold the folded filter at the bottom and use the scissors to round the edges, this will form the outer petals of the daffodil.
Cut a 1.5" piece off of one end of the green chenille stem and set aside.
Take the other coffee filter and fold it in half once and then again, crease it gently and reopen it. This will give you intersecting creases that will allow you to easily see where the center of the filter is.
Take the longer piece of chenille and poke it through the center of the second coffee filter. There should be about 2" of chenille poked through.
Holding the filter at the bottom, roll the filter around itself to form the inner tube of the daffodil. Use a glue stick to tack it together.
Take the second coffee filter (the one you cut the petals from) and poke the end of the chenille stem through the center. Bring the filter up to the center tube of the daffodil that you just created.
Turn the entire thing upside down and grasp the petaled filter with your fingers. Gather it around the tubed filter and secure it by wrapping the extra piece of chenille stem that you cut off in an earlier step. Twist it around the part you are holding and turn the flower back upright.
Manipulate with your finger until petals are spread out and it looks the way you want it to.
Contributor

Crafts By Amanda
Amanda Formaro is the crafty, entrepreneurial mother of four children. She loves to bake, cook and make crafts. She is the craft expert for FamilyCorner.com and Kaboose.com. You can see her crafty creations on http://craftsbyamanda.com" Amanda's Crafts by Amanda and her delicious recipes on http://www.amandascookin.com/ Amanda's Cookin'.