Chick Centerpiece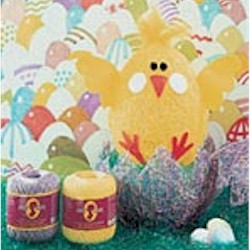 Yarn can be turned into this really cute Chick Centerpiece for your Easter table.
Supplies
EGG: "SOUTH MAID®", Art. D54: One 300-yard ball No. 465 Pastels
CHICK: "SOUTH MAID®", Art. D54: One 350-yard ball No. 421 Goldenrod.
Commercial fabric stiffener
1 large balloon for egg and 1 medium balloon for chick
Orange, yellow and pink felt
Two ½" black pom pons
3-4 yellow feathers
White dimensional paint
Hot glue gun and stick
Scissors
Large bowl
Custard cup
Chalk.
sizes:
Egg measures approximately 6" high
Chick measures approximately 10" tall
Instructions
EGG
Balloon: Inflate large balloon to measure 31" around (height) and 29" around (width); knot end securely. Tie the end of the pastels thread to the knot of the balloon and wrap thread around the balloon criss-crossing in all directions and using all of the thread. Secure thread end at the knot, leaving a length for hanging.
Stiffen: Hold wrapped balloon over a large bowl and pour stiffener over the balloon. Repeat until all threads are thoroughly saturated. Gently smooth away excess stiffener with hands. Hang balloon over bowl to catch drips; allow to dry completely, approximately 24-48 hours. Burst balloon with a sharp point and remove from the thread bubble.
Shape: Press wider end of balloon gently over inverted custard cup to form bottom of egg, allowing it to sit. Mark a random zigzag with chalk 5"-6" up from table and cut along this line (top of egg can be made into a basket, candy bowl or discarded).

CHICK:
Inflate medium balloon to measure 28" around the height and 24" around the width. Wrap with goldenrod thread, stiffen, and shape bottom same as for egg; do not cut. Cut two 1½" diameter circles from pink felt for cheeks and a 1½"  wide at the top x 1½"  long triangle from orange felt for beak; glue in place. Glue pompoms in place for eyes; add eye highlights with paint and allow dry. Glue feathers to top of head. Cut wings and feet from felt (pattern located at left). Glue feet to bottom front of chick; glue wings to the sides so they will extend above the egg.
This craft reprinted courtesy of CoatsandClark.com.
Contributor

Coats
For nearly two centuries, generations of needlecrafters around the world have looked to Coats for our signature quality and inspiration. Today the tradition continues. Whether your passion is sewing or quilting, crochet, knitting, needlework or crafts, creativity starts here!