Cheesy Jack-O-Lantern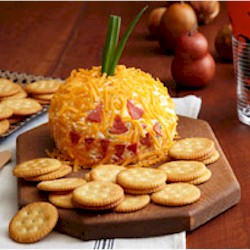 Halloween buffets are a delight to the eye as well as the palete. These cheesy jack-o-lanterns will be a big hit with ghost, goblines and witches. OH yeah.
Supplies
3 green onions, divided
2 pkg.  (8 oz. each) PHILADELPHIA Cream Cheese, softened
1 pkg. (8 oz.) KRAFT Shredded Cheddar Cheese, divided
1/4 cup  finely chopped red peppers
2 slices pepperoni
Instructions
CUT 4-inch length from green end of 1 onion; slice remaining onions. Beat cream cheese and 1-1/4 cups Cheddar with mixer until well blended. Stir in sliced onions and peppers. Refrigerate 1 hour.
SHAPE into ball; roll in remaining Cheddar. Cut pepperoni into shapes for the jack-o'-lantern's eyes, nose and mouth; press into cheese ball to make face. Insert green onion piece into top for stem.
SERVE with RITZ Crackers.
Contributor

Kraft Foods
For over two hundred years, many companies have united to make Kraft Foods what it is today. Check out their heritage page and learn the many companies that comprise the Kraft family of foods.