Cardboard Tube Soldier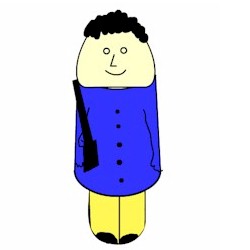 Make a whole army of these Cardboard Tube Soldiers. Easy for little hands to make and lots of fun. Decorate them to match your favorite soldier.
Supplies
Yogurt pot
Cardboard roll
Portion of an egg carton
Glue
Instructions
Glue the cardboard roll into the upturned yogort pot.
Cut out a cup section from an egg carton and glue on the bottom of the pot for a head.
Decorate.
This craft is reprinted courtesy of Things2Make.com.
Contributor

Things2Make.com
This fun animated website has great graphics and animated directions for their projects that are listed alphabetically in two categories: Under 6 and Over 6.