Cardboard Tube Race Car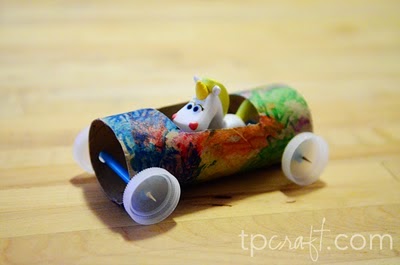 Show the kids how to recycle a cardboard tube into this cute cardboard tube race car. They can make a whole fleet of them in their favorite racing colors and have hours of fun when the project is done.
Trivia: Did you know the newest brand of Scott's toilet paper has no cardboard tube. Better stock up on tubes for crafts while you can.
Supplies
Toilet paper roll
Paint
Hole punch
Scissors
4 plastic bottle lids
2 toothpick
Straw
Instructions
Begin by painting your toilet paper roll.
While you're waiting for your toilet paper roll to dry trim your straw to just a little shorter than your toothpicks.
Punch holes in your toilet paper roll and thread the straw through. Then insert the toothpick through the straw.
Punch some small holes in the plastic lids. You want to make sure that you get the hole directly in the center so that the wheels don't wobble.
Put the wheels onto the toothpicks. I ended up putting a little drop of glue on the outside of the wheel, right where the toothpick poked through, but it wasn't necessary. I just didn't want the baby to pull them off and try to eat them.
Cut a hole in the center of the toilet paper roll for a seat and find a little friend who wants to go for a ride.
Contributor

TPcraft.com
TPcraft.com is the perfect place to find fun and educational activities for kids of all ages.  We utilize toilet paper rolls, paper towel rolls and other cardboard tubes commonly found around the home to create something new and exciting!