Cardboard Tube Mummy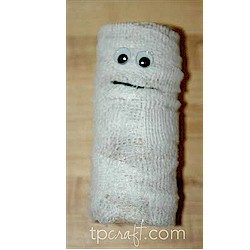 These mummies are a fun and easy craft for the little ones and will supply lots of creative and fun play time.
Supplies
1 toilet paper roll*
Glue
Google eyes
Scissors
Marker
First aid gauze
*If you are concerned about germs on the roll, just stick it in the microwave for a couple of seconds.
Instructions
Begin by cutting all your gauze into strips.  You could also use the roll of gauze, but this is what we had in the house.  Put glue on your toilet paper roll and wrap a few layers of the gauze around the outside.
Add your google eyes and a mouth and let dry overnight.
This craft is reprinted courtesy of TPcraft.com where you will find lots of creative ways to recycle cardboard tubes.
Contributor

TPcraft.com
TPcraft.com is the perfect place to find fun and educational activities for kids of all ages.  We utilize toilet paper rolls, paper towel rolls and other cardboard tubes commonly found around the home to create something new and exciting!